Next: SUMMARY Up: RADIATION FROM BODIES WITH Previous: TRANSFER OF TIME ACROSS &nbsp Contents



Third, if clock CD controls the emission and reception of radar pulses to locate a scattering event in

(filled circle in Figure 13), then upon being transferred to AB, these pulses can be used by AB to reconstruct an image of that event's location in

(unfilled circle in Figure 13). By applying this reconstruction to scattering events lying on, say, a time-like hyperbola in

, (dashed curve in Figure 13), one finds that its image in

is a straight line in

(dashed line in Figure 13). Similarly, a spacelike straight line of simultaneity gets reconstructed as a spacelike hyperbola of simultaneity in F.
Mathematically this reconstruction assumes its simples form when expressed in terms of the null coordinates



of Figure 1:


Physically this reconstruction is based entirely on

, the acceleration of radar unit C of clock CD, and Eq.(28), the common frequency shift factor, which is best expressed in terms of the change in the boost coordinate

,



Let



be the integer-valued radar coordinate of a scattering event located by CD in

. Then that event is related to its image in

by



This is the relationship between the solid and the hollow circled events in Figure 13.

Figure 13: Transfer of radar coordinates from clock CD to clock AB. The heavy dot in

gets mapped to the hollow dot in

. The radar coordinates of the event marked by the heavy black dot are the two clock pulses numbered

and

by accelerated clock CD. These two pulses cause CD to dispatch two pulses across its future event horizon. They are received by inertial clock AB where the numbering of its pulses is the same, namely,

and

. These are also the radar coordinates of the encircled event (``hollow dot'') in

. If this and other such events lie along the straight dashed line in

, then a free-float physicist who watches AB knows that the scattering source in

has the world line of the dashed hyperbola in

.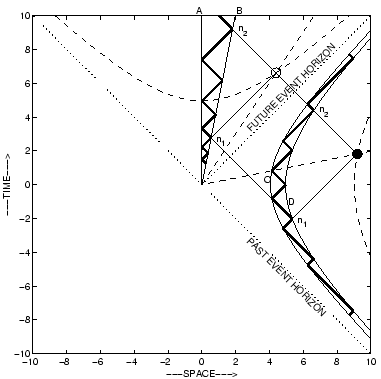 ---





Next: SUMMARY Up: RADIATION FROM BODIES WITH Previous: TRANSFER OF TIME ACROSS &nbsp Contents Ulrich Gerlach 2003-02-25